LeadHootz supports several templating options, each of which are presented near the conclusion of the start-up wizard but can be accessed throughout the application.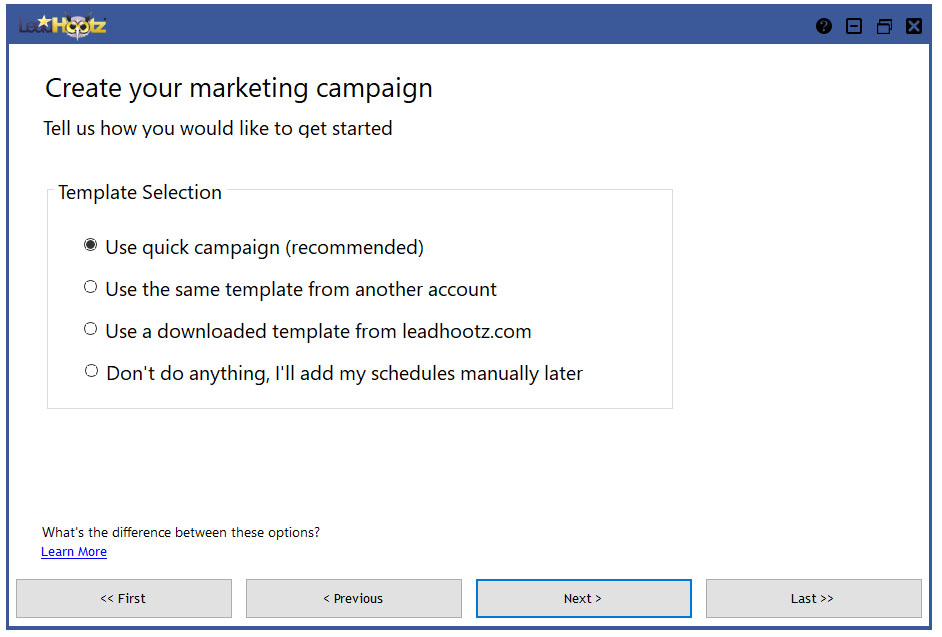 Use Quick Campaign (recommended)
This is the easiest and quickest way to create a campaign.  It requires only one piece of information to allow you to move forward with a working campaign and that is a follow-up message.  Behind the scenes LeadHootz creates three schedules.  The first is the "Create New Prospect" schedule, this uses the search information you provided in a previous step.  We also include an "Invite" schedule using default values and finally the "Follow-up" schedule that contains the message you will include in the next step.
Use the same template from another account
If you have an existing LeadHootz account, you can export a working schedule list (campaign) into another account.  This is useful in the following situations:
You are a running an identical marketing campaign in a different region and don't want to have to manually enter all of the schedules manually.


You company adheres to a strict marketing policy that only allows internally agreed templates to be used.


You need to "scale up" your marketing across multiple accounts and need to use the same approach across each account.

Use a downloaded template from leadhootz.com
You can download a template directly from leadhootz.  The primary benefits of a downloadable templates is that they contain live metrics from 1000's of users using the same template.  This ensures an anticipated engagement rate.


Don't do anything, I'll add my schedules manually later
Selecting this option won't add any schedules to your new account.